The Future of Banking and Finance Panel Event
16 Sep 2022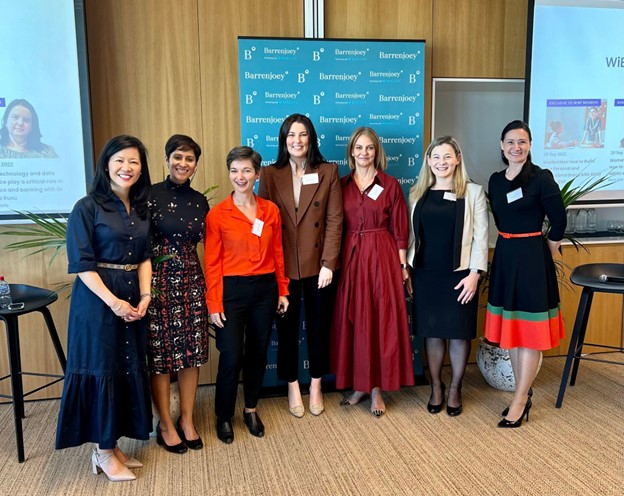 In a powerful display of support and commitment to gender equality, Women in Banking and Finance (WiBF) and Barrenjoey joined forces to host an inspiring panel event for students and graduates in September. The event aimed to provide valuable insights into the progress made within the industry and offer guidance for aspiring professionals.
Led by our esteemed moderator and WiBF President, Sangeeta Venkatesan, the all-women panel featured influential figures who shared their experiences and perspectives. The panel members included Jo Masters, Chief Economist at Barrenjoey; Mollie Urquhart, Founding Principal | Fixed Income at Barrenjoey; Kate Spira, Senior Product Manager at Macquarie; and Dr. Elvira Sojli, President of the Financial Research Network and Associate Professor of Finance and the Equity, Diversity, and Inclusion Committee Chair of UNSW Business School.
Throughout the event, the panelists engaged in an enlightening discussion, exploring the advancements and changes within the industry. Their collective expertise and diverse backgrounds provided attendees with a multifaceted understanding of the opportunities and challenges present in the financial sector.
The panelists' insights shed light on the progress that has been made, as well as the work that still needs to be done to create a more inclusive and equitable industry. Their discussions centered around key topics such as career development, gender diversity, and the importance of fostering a supportive environment for women in finance.
By showcasing the accomplishments and experiences of these successful women, the event aimed to inspire and empower the next generation of finance professionals. The panelists served as role models, demonstrating that with determination, perseverance, and a supportive network, women can thrive and excel in the banking and finance industry.
WiBF and Barrenjoey extend their gratitude to the panel members for generously sharing their time, expertise, and insights and to all attendees. Through collaborative efforts and initiatives like this panel event, they pave the way for a future where gender equality is the norm, and women have equal opportunities to thrive and lead in the banking and financial sector.